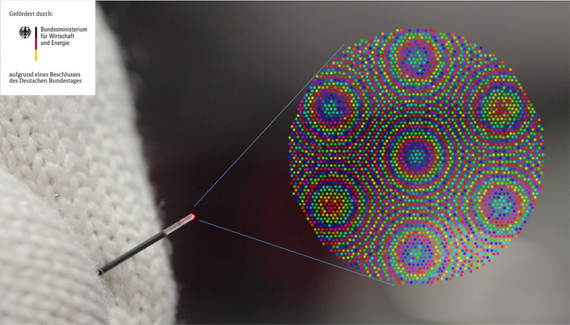 Needle-shaped lensless holographic endoscope
Thin and flexible endoscopes for minimally invasive medical diagnostics and therapies have only allowed 2D imaging so far, while endoscopes for 3D imaging have a cross-section too large for minimally invasive procedures. The aim of the "HoloScope" project is therefore to develop and validate a small-diameter endoscope (< 300 µm) that allows 3D imaging with subcellular resolution and is thus suitable for minimally invasive procedures. For this purpose, the scientists of the Laser Components and Fibres group will develop special fibre bundles with aperiodic core structure. New measurement and evaluation techniques, which will be developed and validated at the BIOLAS centre of excellence at Dresden University of Technology, will enable applications of these lensless fibre bundles for 3D imaging in the brain, for example.
The IGF project no. 21802 BG is funded by the Federal Ministry for Economic Affairs and Energy based on a resolution of the German Bundestag.
Project duration: 01.04.2021-30.09.2023
Funding body: IGF via AiF through BMWK
Funding amount: 463,324.82 EUR
Project partners:
Research institutions:
Dresden University of Technology, Chair of Measurement and Sensor Systems Technology
Leibniz University of Hanover, Institute of Quantum Optics
Project Supporting Committee:
Industries
Industry Berlin Glass GmbH
Carl Zeiss Meditec AG
CeramOptec Gmb (SME)
FiberBridge Photonics GmbH (SME)
FiberWare GmbH (SME)
Forth Dimension Displays Ltd.
Holoeye Photonics AG (SME)
JENOPTIK Industrial Metrology Germany GmbH
Laser Components GmbH (SME)
Leoni Fiber Optics GmbH
LLS ROWIAK LaserLabSolutions GmbH (SME)
Multiphoton Optics GmbH (SME)
Sikora GmbH (SME)
Other
German Hearing Centre Hanover
University Hospital Carl Gustav Carus Dresden