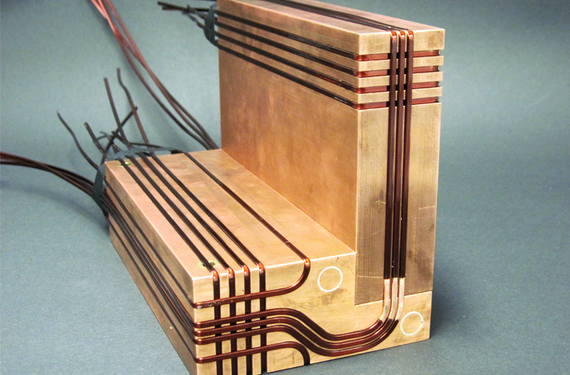 In the past a broad field of research has been established using Bose-Einstein-condensed atomic samples as a versatile example system to measure a multitude of quantum effects.
The Mesoscopic Atom Chip project aims to set up a new apparatus for creating Bose-Einstein-condensed clouds, providing higher repetition rates to overcome the limitations due to the slow cycle times of other BEC machines.
The time limitation for the generation of quantum degenerate ensembles is typically given by the loading cycles of the magneto-optical trap as well as the time needed for evaporative cooling. With an optimized double MOT setup we can decrease the loading time. The time needed for evaporation will not be a limitation in our apparatus since we will be able to store and transport multiple atomic ensembles and evaporate them simultaneously.
Therefore current carrying planar wire structures were developed to generate the magnetic fields used for magneto optical cooling as well as magnetic trapping and transporting of multiple ultra cold Rb-87 clouds. With this concept one could either produce rapid replenishing BEC or combine a chain of ultra cold clouds in one trap to obtain one BEC consisting of many atoms.